Children of White Thunder: Legacy of a Cheyenne Family
Regular price
Sale price
$29.95 USD
Unit price
per
Sale
Sold out
Children of White Thunder, Legacy of a Cheyenne Family 1830-2020, is the biography of one extended Cheyenne family, the descendants of White Thunder, a Cheyenne holy man who was Keeper of the Sacred Medicine Arrows. In the 1830s he was the spiritual leader of the Cheyenne and possessed the special knowledge of the rituals involving the Arrows. Two of his daughters married William Bent, the owner of Bent's Fort trading post. The marriages cemented the influence and regard Bent enjoyed with the Cheyenne. The marriage of these two cultures was significant. White Thunder's grandchildren George, Robert, Charlie, and Julia Bent, and Julia's husband Edmund Guerrier, were witnesses and participants in many of the most significant events in the19th Century American West, including the Sand Creek Massacre. Their firsthand tribal knowledge was critical in preserving Cheyenne history and culture. Their interconnected stories span almost two centuries. Julia Bent Guerrier played a significant role in the upbringing of her granddaughter, Ann, and passed along her traditional Cheyenne culture. In turn, Ann passed along this cultural heritage to her children, including Harvey Pratt, who became a Southern Cheyenne peace chief in 1992. Pratt, an accomplished artist, was selected to create the Smithsonian's National Native American Veterans Memorial for the National Museum of the American Indian in 2018. In November 2020 the Memorial was opened to the public. Harvey's design was influenced by his participation in the ceremonies of many Indian nations and his own Cheyenne cultural heritage. Descendants of White Thunder lived unique lives, and this is their true story. Author Dee Cordry is a retired law enforcement special agent of the Oklahoma State Bureau of Investigation. He is a published author, public speaker, research consultant, and has been interviewed in documentaries. Cordry has developed strong relationships with Cheyenne tribal leaders, tribal historians, state historians, archeologists, authors, and researchers. His research and analysis skills provide revealing details, new perspective, context, and understanding of Cheyenne history, culture, and heritage.

"Traditionally, American Indian tribal histories have been written through the lens of federal officials and white civilians who left written records and accounts that are easily accessible and considered primary sources by professional historians. The results, too often, have been one-sided narratives that lump together all tribal members as either reactionary adversaries or aggrieved victims, and with very few exceptions, faceless and nameless players on the stage of romantic frontier history.
Dee Cordry, in this remarkable biography of one extended family, replaces the broad brush of traditional history with the revealing details of real Cheyenne people, making real decisions grounded on ancient traditions passed down from one generation to the next. Spanning almost two centuries, this story is written through the lens of one family, the descendants of White Thunder, a Cheyenne holy man who was a Keeper of the Sacred Arrows. The interconnected stories of his descendants, reaching all the way into our own times through the life of Harvey Pratt, provide us with a more personal yet still sweeping panorama of one tribe's history from conflict and confinement to survival and cultural preservation. Dr. Bob L. Blackburn, Retired Director of the Oklahoma Historical Society 2022"
Share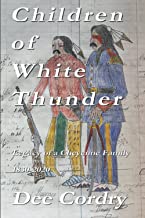 Free Shipping

Get free shipping on orders over $50, or pay just $7.95 flat rate for orders under $50. We also offer free in-store pick-up.

Hassle-Free Exchanges

We offer a 30-day return policy for itmes in original condition & packaging and accompanied with the sales receipt.