Love's: Fifty Five Years of A Family Enterprise
Regular price
Sale price
$29.95 USD
Unit price
per
Sale
Sold out


By Bob L. Blackburn -- $29.95
In 1964, with little money to invest and a growing family to support, Tom and Judy Love opened their first store in an old service station in Watonga, Oklahoma. It offered few frills other than "the cheapest gas in town." Fifty-five years later, Love's Travel Stops & Country Stores is the fastest growing chain of fueling stations in the nation serving a combination of car and truck traffic from coast to coast. This book traces the growth of that family enterprise.
The story begins on the frontier with the Love family of Chickasaw refugees who moved to the Indian Territory in search of new opportunity. They found it on the wide open prairies of the West, where mobility often made the difference between success and failure. Tom's great-grandfather, Robert Jeremiah Love, found his opportunity along a newly laid railroad where he became a merchant, banker, and hotel owner.
Armed with confidence and this family legacy, Tom and Judy launched their little chain of full-service gasoline stations in western Oklahoma. Early innovations that gave his stations an edge included extended hours and non-fuel merchandise. The experimentation came together in 1972 with a new type of combination service station and convenience store in Guymon, Oklahoma. Tom called it a Mini-Stop Country Store, open twenty-four hours a day with self-service gasoline. Despite the Arab Oil Embargo, the little chain grew to additional states with the new name of Love's Country Stores. The next leap forward was a mini-stop on steroids located on the emerging interstate highway system where fuel sales could be expanded to trucks. In 1981 the first Love's Travel Stop opened in Amarillo, Texas. Following years of fierce competition and innovation, the company reached a turning point in 1997 that led to a new generation of leaders, greater efficiencies, and the launch of Gemini Transport and Musket fuel trading. By 2013, as the company neared its 50th anniversary, the Love's network included more than 300 stores.
Tom used the glow of the 50th Anniversary to issue a new challenge to his family and team members. Although it had taken fifty years to get to their current size, he wanted them to double the size of the company by 2020, only six years into the future. Tom knew that past success did not guarantee future success, and he knew that reaching ever higher for new plateaus of innovation would secure the future of the company. By growing the leadership team, combined with the entry into new endeavors such as truck and tire care, hotels, and alternative fuels, he saw a path to long-term success.
For fifty-five years, two constants have never changed at Love's. One is the belief that growth creates opportunities, even during the darkest hours when survival skills suggest a more conservative approach. The second constant is family ownership, supported by a strong leadership team that buys into the values and vision started by Tom and Judy Love. With a unified vision and a belief in growth, Love's will undoubtedly add new chapters to the story captured in this book.
Share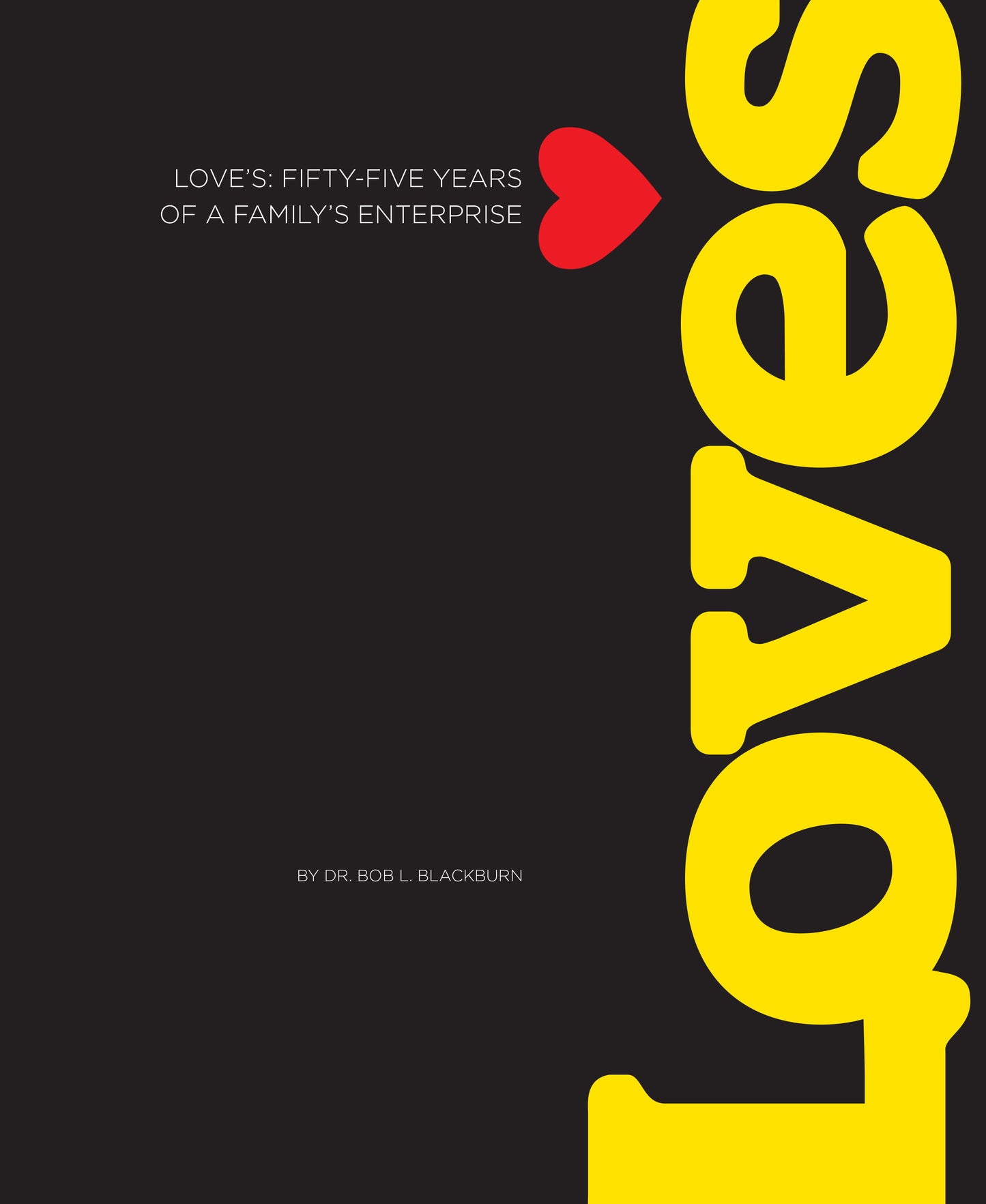 Free Shipping

Get free shipping on orders over $50, or pay just $7.95 flat rate for orders under $50. We also offer free in-store pick-up.

Hassle-Free Exchanges

We offer a 30-day return policy for itmes in original condition & packaging and accompanied with the sales receipt.